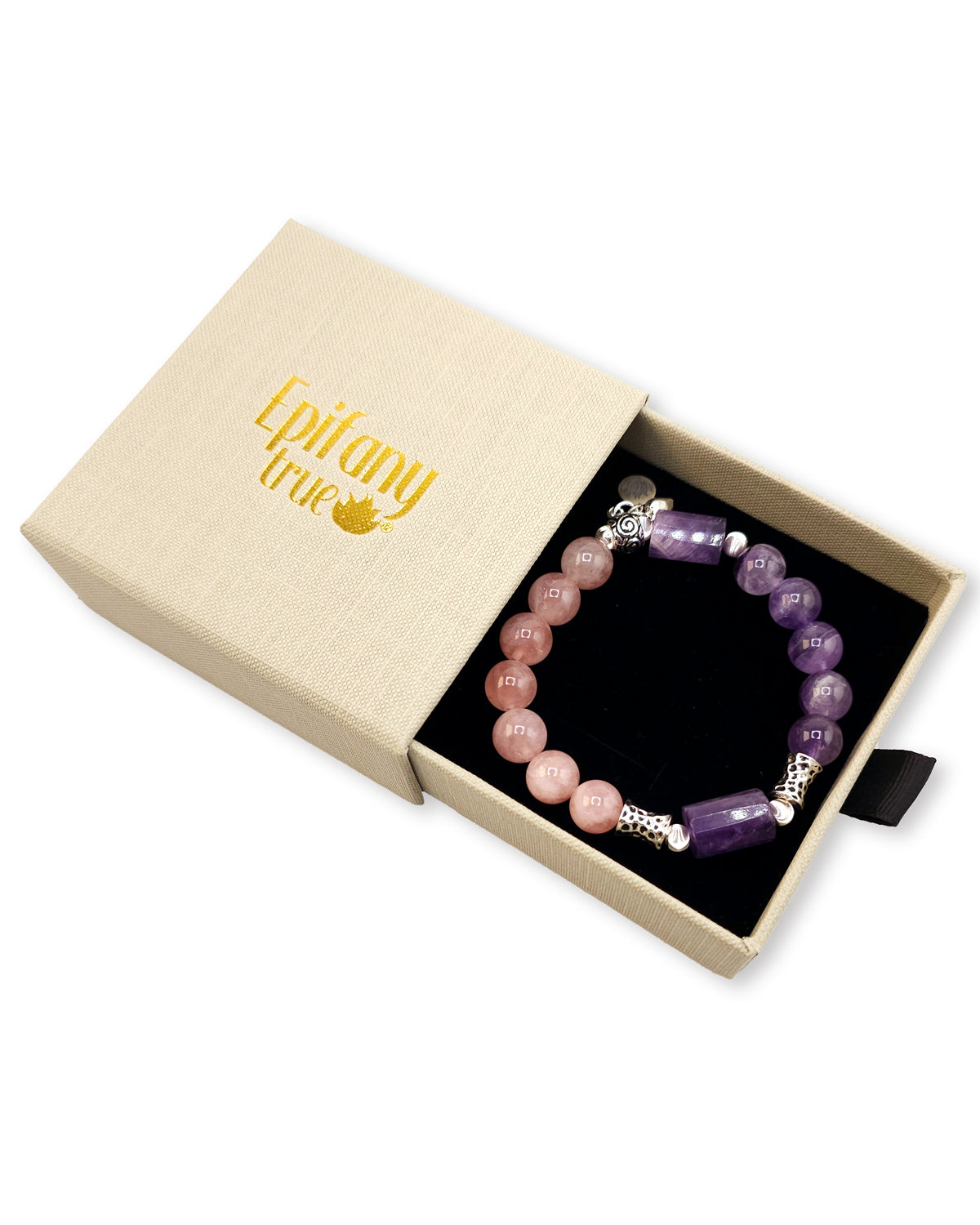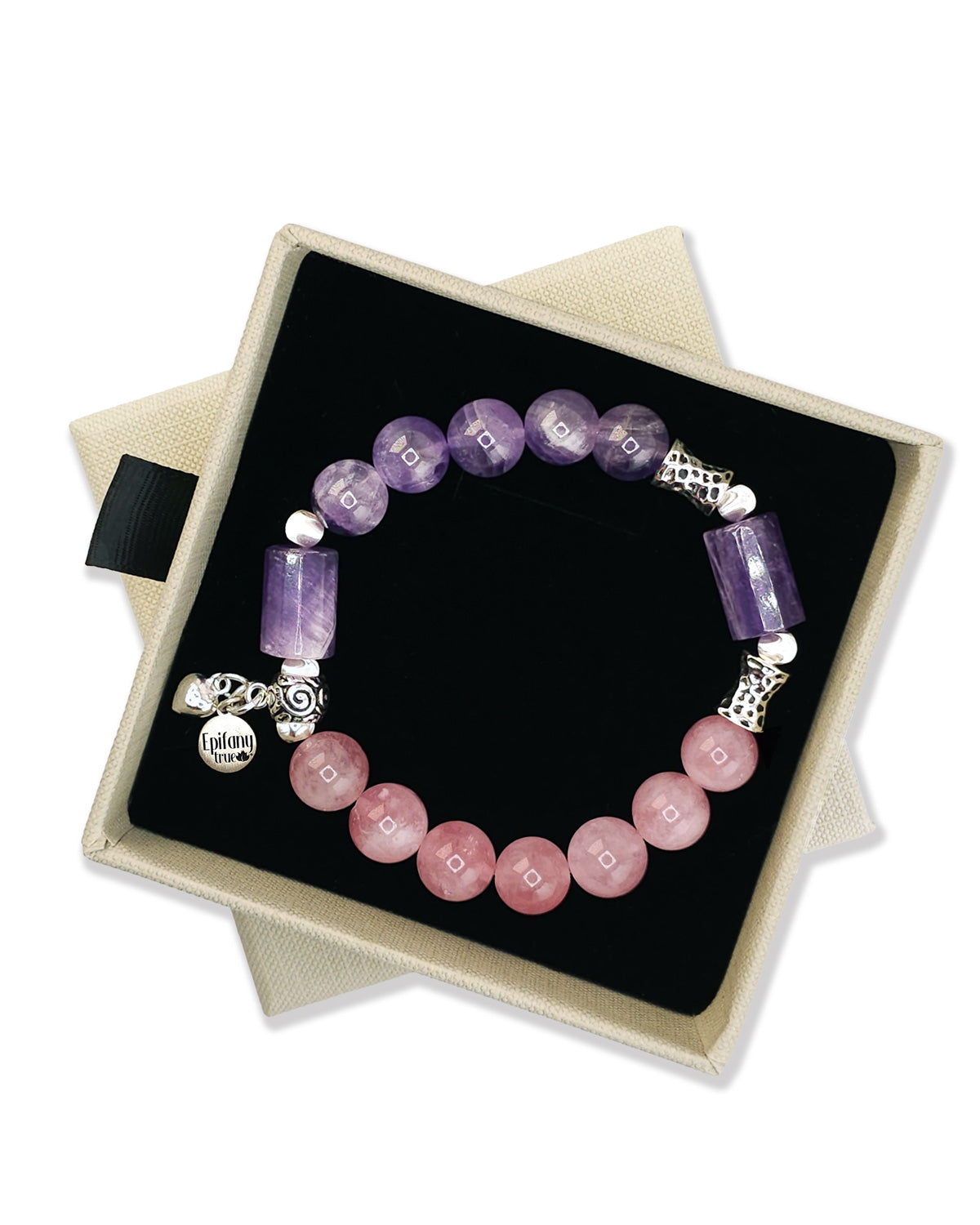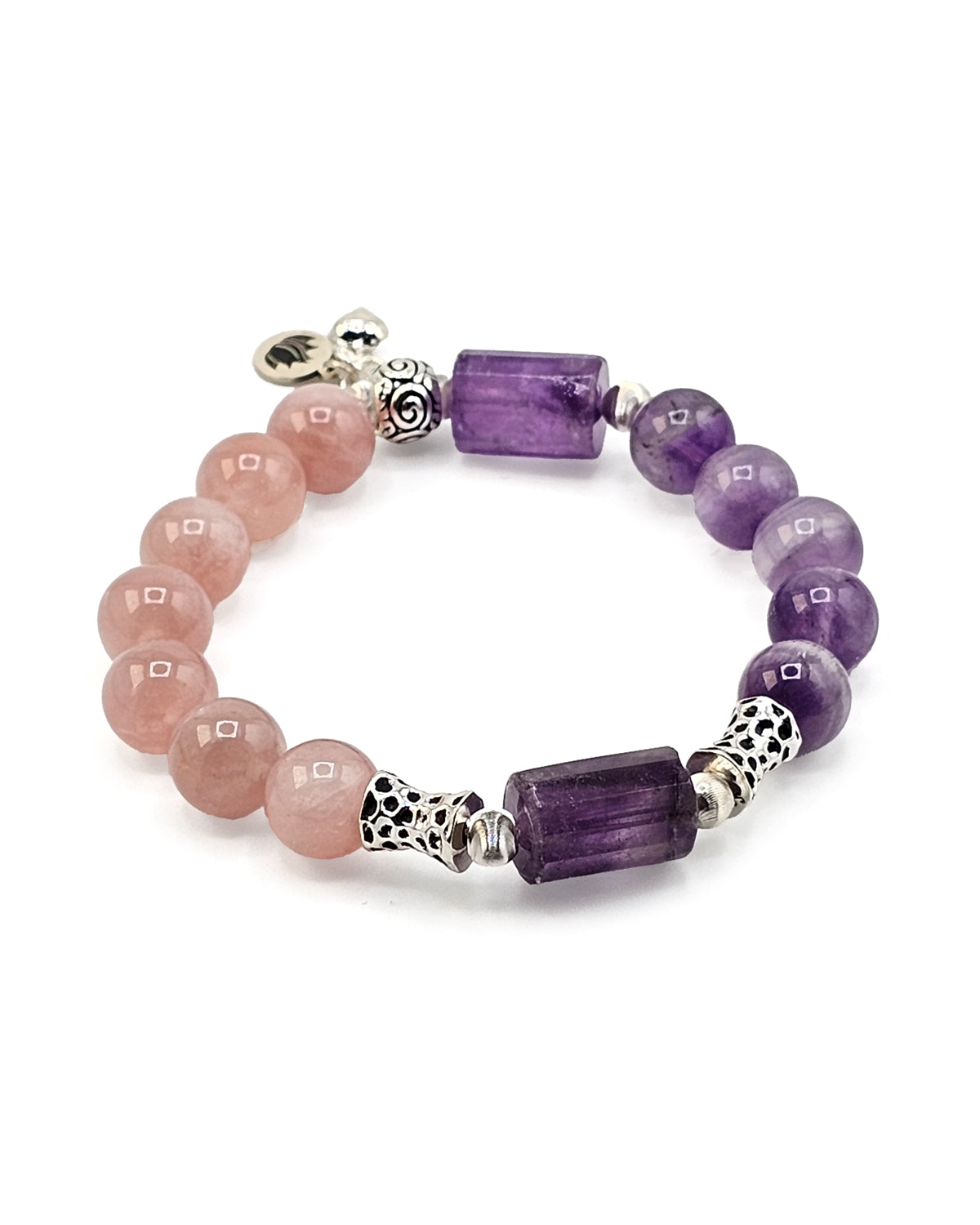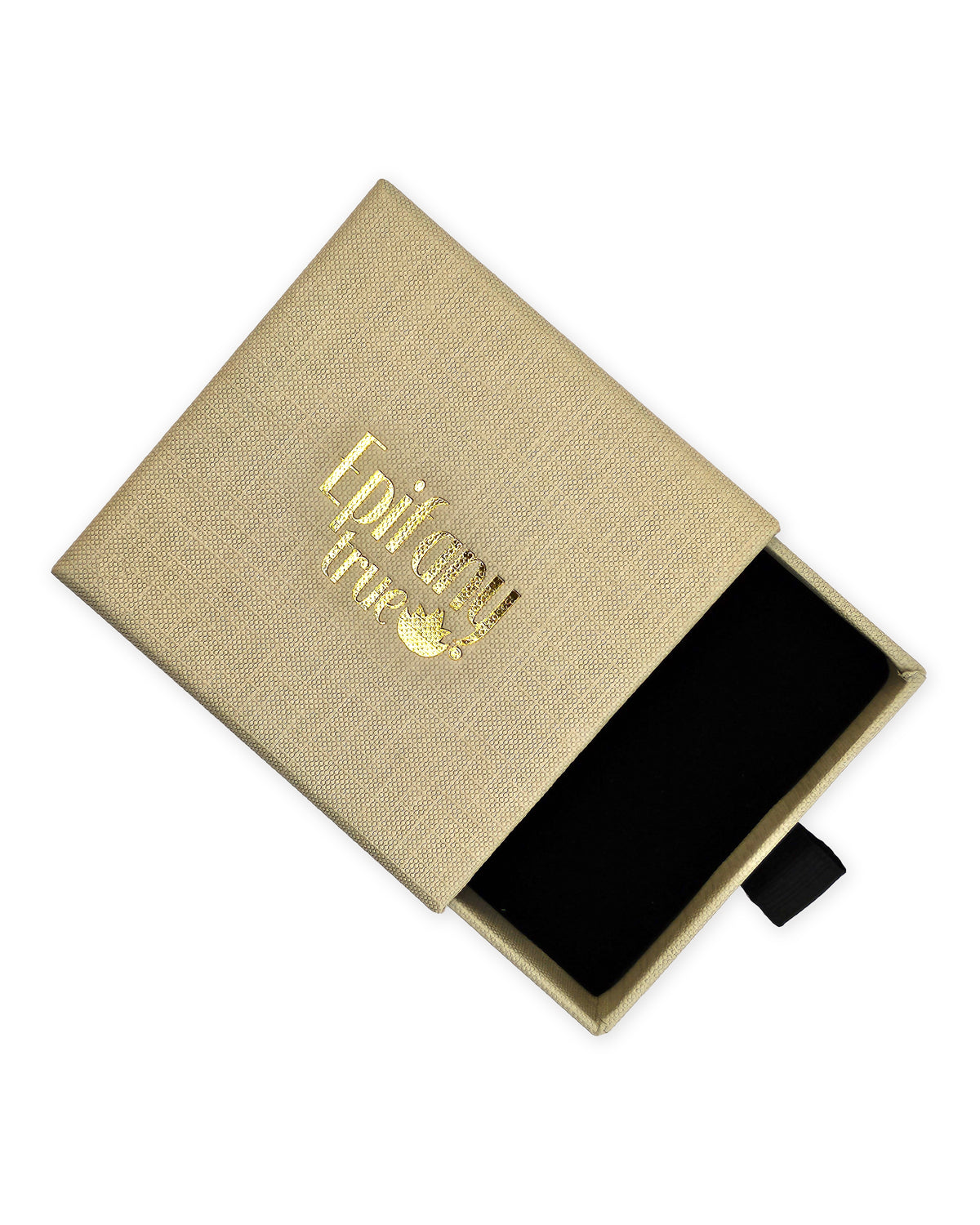 Epifany True
Strong Love Healing Intention Bracelet with Amethyst, Madagascar Rose Quartz and 925 Sterling Silver 7 inch
Sale price
$65.00 USD
Regular price
Introducing the Epifany True Strong Love Healing Intention Bracelet, a harmonious fusion of natural beauty and spiritual energy designed to nurture your heart and soul, with cancer awareness always at top of mind. Strong Love, made of Amethyst and Rose Quartz, is our 2023 signature bracelet, deliberately designed with two focal points for versatility, giving you the "freedom" to wear it however you feel - on a particular day. It is crafted with care - a testament to the power of love, healing, and good, wholesome intention.  Let it serve as a daily reminder of your intentions, a symbol of your inner strength, and a conduit for love and healing. Wear it with pride, knowing that you carry the positive energy of amethyst and rose quartz with you wherever you go.

Key Features:

Natural Amethyst and Madagascar Rose Quartz Gemstones: Immerse yourself in the gentle embrace of two of nature's most cherished gemstones. Amethyst, known for its calming properties, promotes inner peace and balance, while Madagascar Rose Quartz embodies the essence of love, compassion, and emotional healing. Together, they create a symphony of positive energy. You may find it to be a powerful tool for manifesting your intentions. Each time you wear it, you may set your intentions for love, healing, and strength, and let the gemstones and silver amplify your desires.

925 Sterling Silver: Each silver bead and charm on this bracelet is meticulously handcrafted from genuine 925 sterling silver, representing purity, protection, and timeless elegance. The silver accents add a touch of sophistication to this meaningful piece. 
Perfect Fit: The stretch bracelet is designed to fit wrists measuring 7"-7.25". It offers a comfortable and secure fit. Just like you, no two of these bracelets are exactly alike as they are made from great quality natural amethyst rich Madagascar rose quartz that have not been dyed or otherwise enhanced.

Gift of Love: This bracelet makes a thoughtful and meaningful gift for a loved one.  Whether you're expressing your love, offering support, or wishing healing energy upon someone, the Epifany True Strong Love Healing Intention Bracelet is a heartfelt gesture. It is the perfect gift for breast cancer awareness.

OTHER DETAILS:  Your Strong Love Healing Intention Bracelet is primarily made with 10mm natural gemstones. It is presented in our gift box with and the following jewelry care items, so the wearer is ensured a long time of easy care:

PVC Clear Jewelry Anti-Oxidation Transparent Zipper Bag
Anti-Tarnish Strip
Silver Jewelry Cleaning and Polishing Cloth
_______________________
INSPIRATION
"Strong Love", and other bracelets in our Wellness & Healing Jewelry Collection, are inspired by the love for too many who have endured serious illnesses and for those we have lost too soon. Let us courageously seek peace in healing. Let us hold on to the love that we know is true and allow ourselves to be catalysts and vessels of "love energy" to support those in our circle, and others whom God presents to us unexpectedly. Without unconditional love there is no grace. It appears we only peacefully survive in this world when we are open to extending and receiving grace." - Marie Cooper