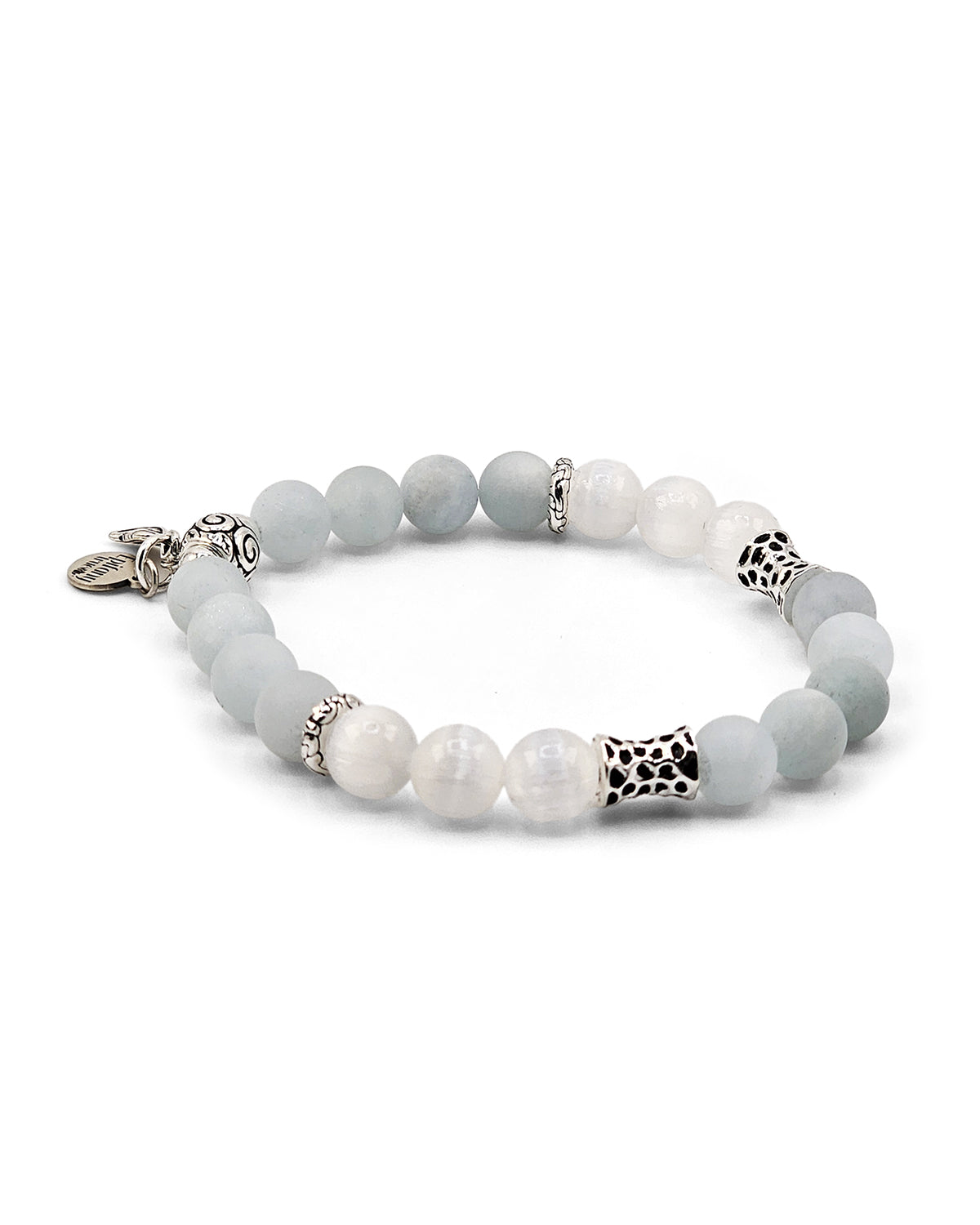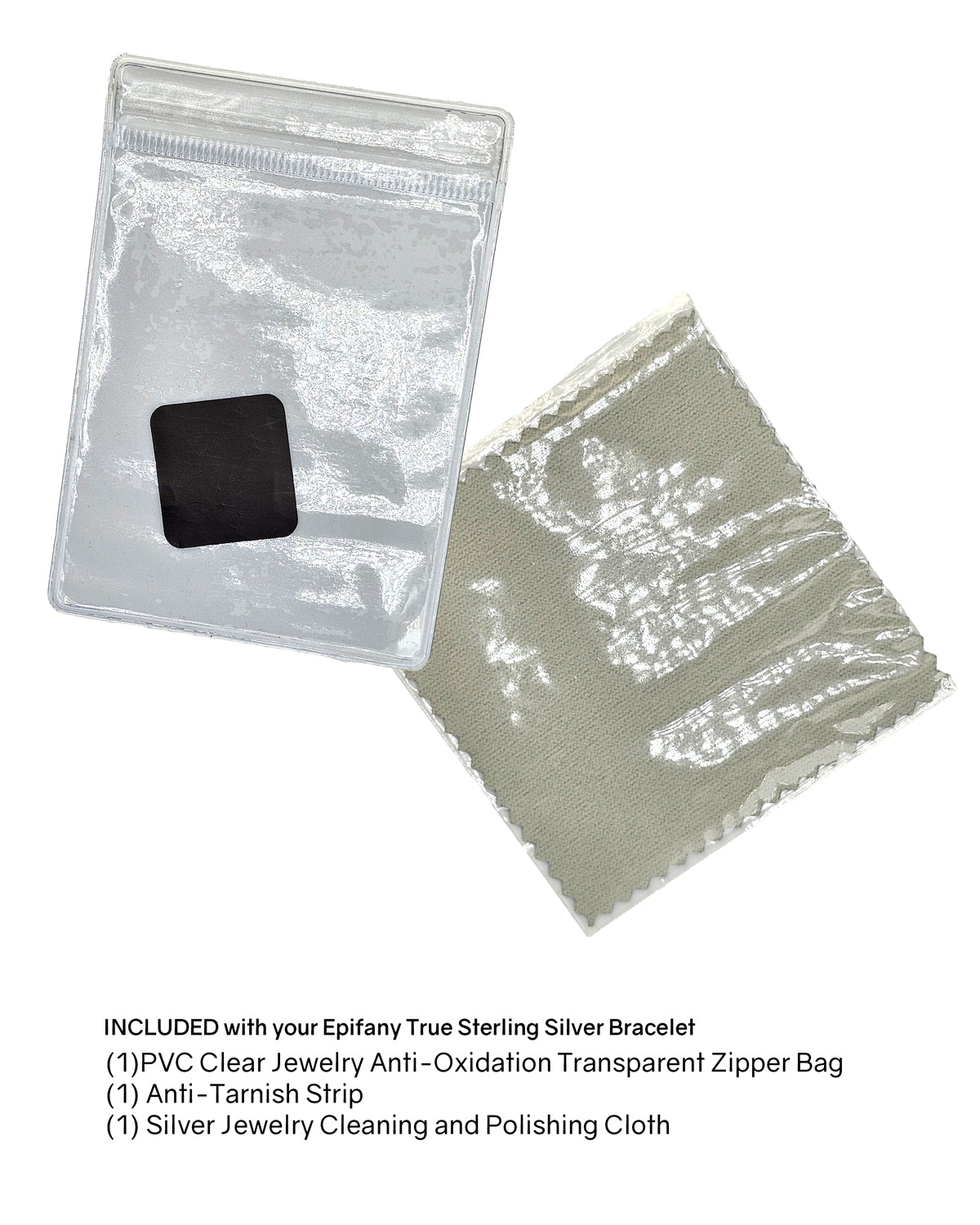 Epifany True
Pure Calm Healing Intention Bracelet with Natural Aquamarine, Selenite and 925 Sterling Silver 7 inch
Sale price
$55.00 USD
Regular price
Introducing the Epifany True Pure Calm Aquamarine and Selenite Healing Intention Bracelet, a sublime combination of natural matte aquamarine, selenite gemstones and sterling silver, meticulously crafted to add tranquility and serenity to your day. This "Pure Calm" bracelet is a symbol of inner peace, clarity, and the unwavering strength of your spirit. This bracelet is meant to inspire you to manifest your deepest intentions. Each time you wear it, you may infuse the bracelet with your desires for clarity, tranquility, and healing, allowing the gemstones and silver to amplify your intentions. From everyday wear to special events, let the bracelet serve as a constant reminder of your inner calm and resilience.

Key Features:

Aquamarine Gemstone:  Aquamarine is a cooling gemstone that is believed to have a calming, soothing, and cleansing effect that leads to inner peace and clarity of mind. Aquamarine is believed to inspire truth and trust. In some societies, Aquamarine is considered to be a stone of fearlessness, good luck, and protection. Its gentle, oceanic blue-green hue mirrors the calm of the sea, inviting you to experience tranquility. 

Selenite Gemstone: Selenite, a crystal of pure light and purification, perfectly complements the aquamarine. Selenite is known as a healing gemstone. It is believed to have various health benefits such as cleansing and purifying the mind, body and soul. It is said to help the wearer ease anxiety and stress and bring clarity and focus. The white beads are luminous and simply beautiful. 
925 Sterling Silver: Every silver bead and charm on this bracelet is lovingly handcrafted from genuine 925 sterling silver, symbolizing purity, protection, and timeless elegance. The sterling silver accents add a touch of sophistication to this meaningful piece.

Stretch Bracelet: Designed to comfortably fit wrists measuring 7"-7.25". This stretch bracelet combines ease of wear with a secure fit, making it effortless to slip on and off while ensuring it stays snugly in place.

Gift of Serenity: This bracelet is a thoughtful and meaningful gift for a loved one, offering them a tangible source of serenity and healing. Whether it's a gesture of support or an encouragement for moments of self-care, the Epifany True Pure Calm Aquamarine and Selenite Healing Intention Bracelet is a cherished token.

OTHER DETAILS:  Your Pure Calm Healing Intention Bracelet is primarily made with 8mm natural gemstones. It is presented in our gift box with and the following jewelry care items, so the wearer is ensured a long time of easy care:

PVC Clear Jewelry Anti-Oxidation Transparent Zipper Bag
Anti-Tarnish Strip
Silver Jewelry Cleaning and Polishing Cloth
_______________________
INSPIRATION
"Pure Calm", and other bracelets in the Wellness Jewelry Collection, are inspired by the love for too many who have endured serious illnesses and for those we have lost too soon. Let us courageously seek peace in healing. Let us hold on to the love that we know is true and allow ourselves to be catalysts and vessels of "love energy" to support those in our circle, and others whom God presents to us unexpectedly. Without unconditional love there is no grace. It appears we only peacefully survive in this world when we are open to extending and receiving grace." - Marie Cooper