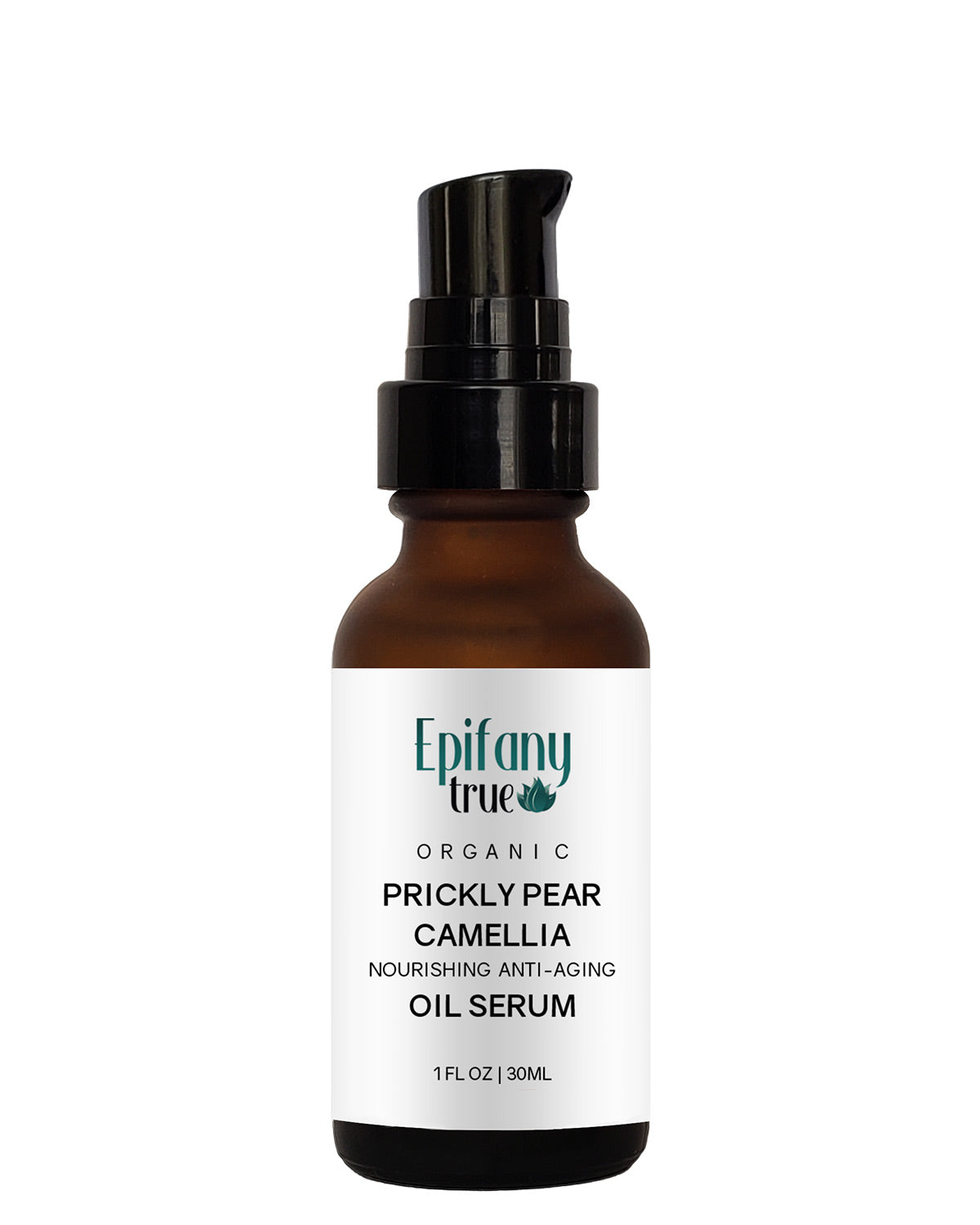 Epifany True
Organic Prickly Pear And Camellia Face Oil Serum 30ml
Sale price
$27.99 USD
Regular price
Epifany True Organic Prickly Pear & Camellia Facial Serum is an all-natural intensely moisturizing Vitamin-E-RICH facial blend created to replenish dry and dehydrated skin, help battle the signs of aging, promote cell renewal, maintain moisture and revive the firmness and smooth silky skin you love without clogging pores!.
Together, this carefully balanced blend of all certified organic Moroccan Prickly Pear Seed Oil, Japanese Camellia Oil and Moroccan Argan Oil provide a powerhouse of healthy and natural skin rejuvenating properties to help address so many skin concerns for any adult: 
Summary Of Serum's Skin Benefits:
Vitamin E rich to protect the skin from free radicals and retain moisture
Repairs and replenishes dry and dehydrated skin
Amino acids accelerate collagen regeneration
Help reduce hyperpigmentation and dark under-eye circles
Promotes faster cell renewal
Protects the skin from sun damage
Tones the skin to restore elasticity and smoothness
Fights wrinkles and fine lines
Fights symptoms skin issues to reduce inflammation
Helps to reduce stretch marks and scars
Noncomedogenic (will not clog pores)
We chose Moroccan Prickly Pear Seed Oil as our hero ingredient because it is known to have the highest concentration of Vitamin E of any plant oil. Loaded with amino acids, it has been shown to accelerate the production of collagen, accelerate the repair of damaged skin, reduce hyperpigmentation, and promote more rapid cellular turnover to reveal smoother, healthier-looking skin. Found to contain a concentrated serving of Vitamin K, this unique oil also has the ability to help diminish age spots, brighten dark under-eye circles and tighten sagging skin to restore elasticity.
Organic Japanese Camellia Oil brings the feeling of silk to this blend along with its intense moisturizing properties. It is higher in oleic acids and is made from the seeds of the Camelia oleifera plant. This light oil is non-greasy and quickly absorbs into your skin. Camellia has been a traditional beauty oil for ages in Asia. Camellia is also known to help reduce wrinkles and address inflammation which results from many skin conditions and damage. It provides protection from the sun.    

Precious Organic Moroccan Argan Oil is loved by just about everyone and is also substantially rich in Vitamin E. It has effective anti-inflammatory and antioxidant properties that help address symptoms from several inflammatory skin conditions such as rosacea and psoriasis.  
Total 5 star reviews: 6
Total 4 star reviews: 0
Total 3 star reviews: 0
Total 2 star reviews: 0
Total 1 star reviews: 0
100%
would recommend this product
Fantastic Refinishing Oil

I love using this lightweight oil that visibly resurfaces and refinishes the appearance of my skin. I am happy with the natural ingedients which feels like a treat for my face. Just two drops covers my face and neck so the bottle lasts a long time.

The social opportunity to buy Black-Owned on a product I can honestly vouch for is an added bonus!

Great product!

My girlfriend gave me a sample and I loved it. My face felt hydrated. What I like most is it's not greasy or sticky! I recommend it!

A wonderful surprise!

I have never before found a skin care product that would do what it says it could do! Epifanytrue proved itself to me after only a few weeks of using it.

I saw a remarkable difference in my age spots and skin condition. It was starting to look like time was being reversed. I am ordering another bottle to continue the process that has been started. Truly a fantastic product!

Awesome Product

It has only been a month since I got the Prickly Pear Serum and started using it immediately. I apply 2 drops nightly, and I am amazed at how soft and radiant my skin looks and feels.

The product is not oily, and if there is a smell I have not detected it.

I love the bottle with the pump, besides being elegant, it prevents spillage and waste, it dispenses just the number of drops you wish,

and is the perfect size to take where ever you travel.

Planning to continue using this product for a long time and recommend it to my family and friends.

My skin is so soft and luscious!

I am just so in love with this serum! First of all, I am digging this bottle and the pump. I have more portion control and I'm not wasting the product.

I use the serum primarily on the dry spots and sections of the face that feel and look 'damaged' due to chemo and steroids. My face is so soft and luscious now.

I'm VERY pleased with my purchase and I will be back for more.
Reviews Loaded
Reviews Added