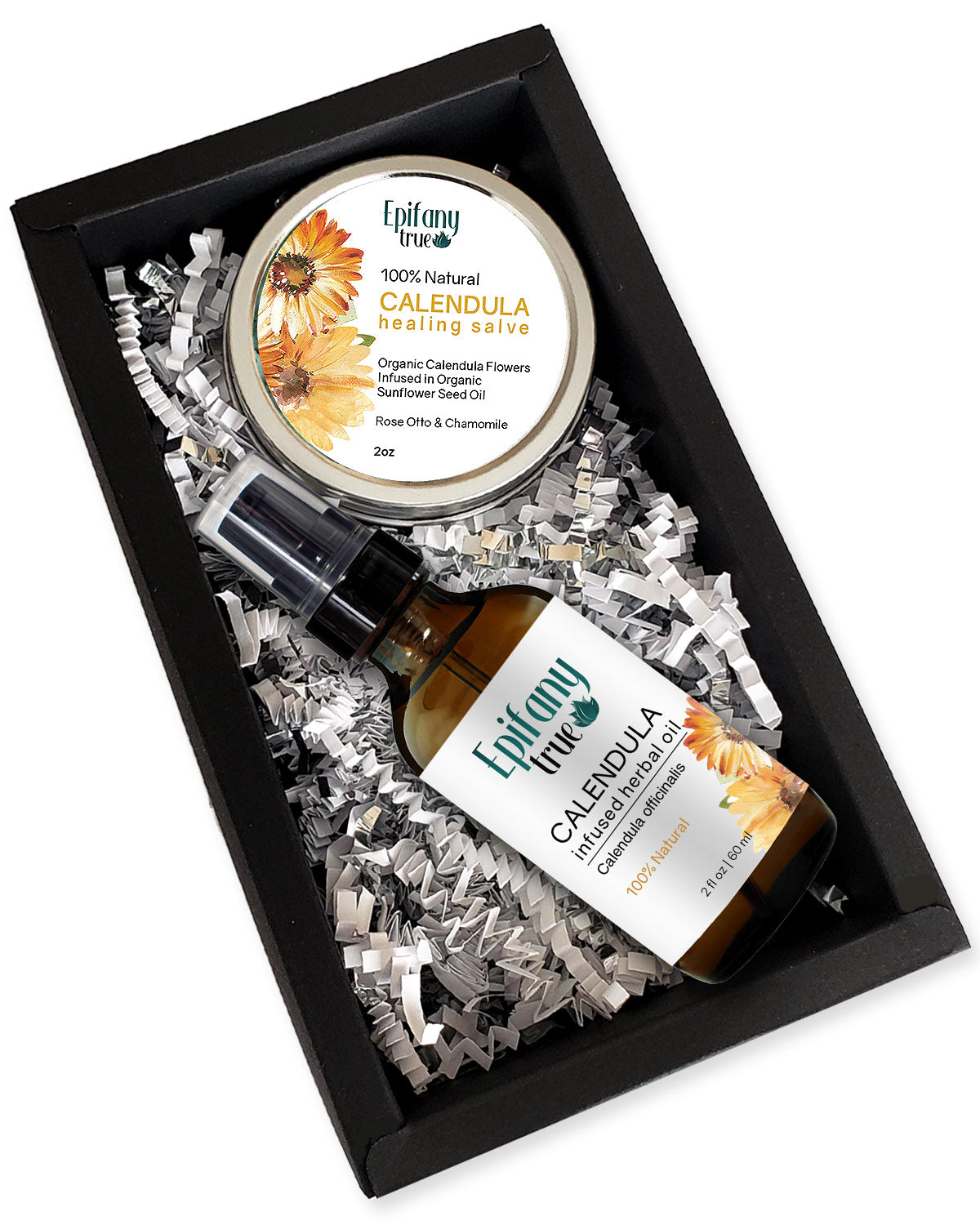 Epifany True
Calendula Oil 2oz and Healing Salve Gift Bundle 2oz
Sale price
$28.99 USD
Regular price
Gentle Care Gift Idea:  Epifany True Calendula Oil and Healing Salve Bundle 2oz
This gentle care calendula bundle is perfectly packaged for everyday and holiday gift-giving in its black box and teal ribbon. 
Calendula Oil may be one of the most important natural remedy oils we want to have at home for the entire family. The pretty yellow-orange calendula flower (Calendula officinalis), is edible and is known to be a powerful medicinal plant. It is rich in compounds such as terpenoids, carotenoids, and flavonoids. In skincare, this herbal plant provides antioxidant, anti-aging, and moisturizing properties. 
Epifany True 100% Natural Calendula Oil is produced by the infusion of organic whole calendula flowers in organic cold-pressed sunflower seed oil that ensures it retains all the potent nutrients of both ingredients. We are excited to include this wholesome, multipurpose product in our brand because it may be used by our customers who require gentle care on their journey back to wellness. 

Calendula oil is known to have antifungal, anti-inflammatory, antibacterial, and antiseptic properties. It has a rich history of being a gentle care aide to help dry, sensitive, delicate, and irritated skin. It is known to help accelerate the healing of wounds, soothe burns, sunburns, insect bites, eczema, dermatitis, and psoriasis, and relieve diaper rash. 
Used regularly, calendula oil helps to reinforce the natural protection of the epidermis to prevent dry skin. Its high content of antioxidants and carotenoids contributes to maintaining the elasticity and suppleness of the skin.
SKIN CARE:   Hands, feet, body massage, nails, lips. Acne.

HAIR GROWTH:  Calendula oil is known to hydrate the scalp, remove dandruff, and improve its overall condition. It is also associated with regenerative properties that allow the hair follicles to grow strong which helps to grow a thicker mane.

___________________________________
CALENDULA HEALING SALVE:
Epifany True 100% Natural Calendula Healing Salve is made with all organic ingredients, a gentle-care soothing remedy balm for the entire family. We've chosen to use organic beeswax in this blend because it also has healing properties and is often used as an alternative natural solution for skin conditions such as psoriasis, eczema, poison ivy rashes, and more.
Use This Salve for Gentle Skin Care:
Healing, Soothing, All-Purpose salve
Anti-inflammatory
Helps with eczema relief
Helps to treat insect bites.
Helps to soothe rashes.
Helps soothe dry chapped hands and feet.

SKIN CARE:   Hands, feet, nails, lips, feet
Total 5 star reviews: 1
Total 4 star reviews: 0
Total 3 star reviews: 0
Total 2 star reviews: 0
Total 1 star reviews: 0
100%
would recommend this product
AMAZING!

I have been using your Healing Salve for a couple of months and it is AMAZING! It is very soothing and I can feel it working immediately. It is almost time to get a replacement, I have used it so much.🙏🏽
Reviews Loaded
Reviews Added