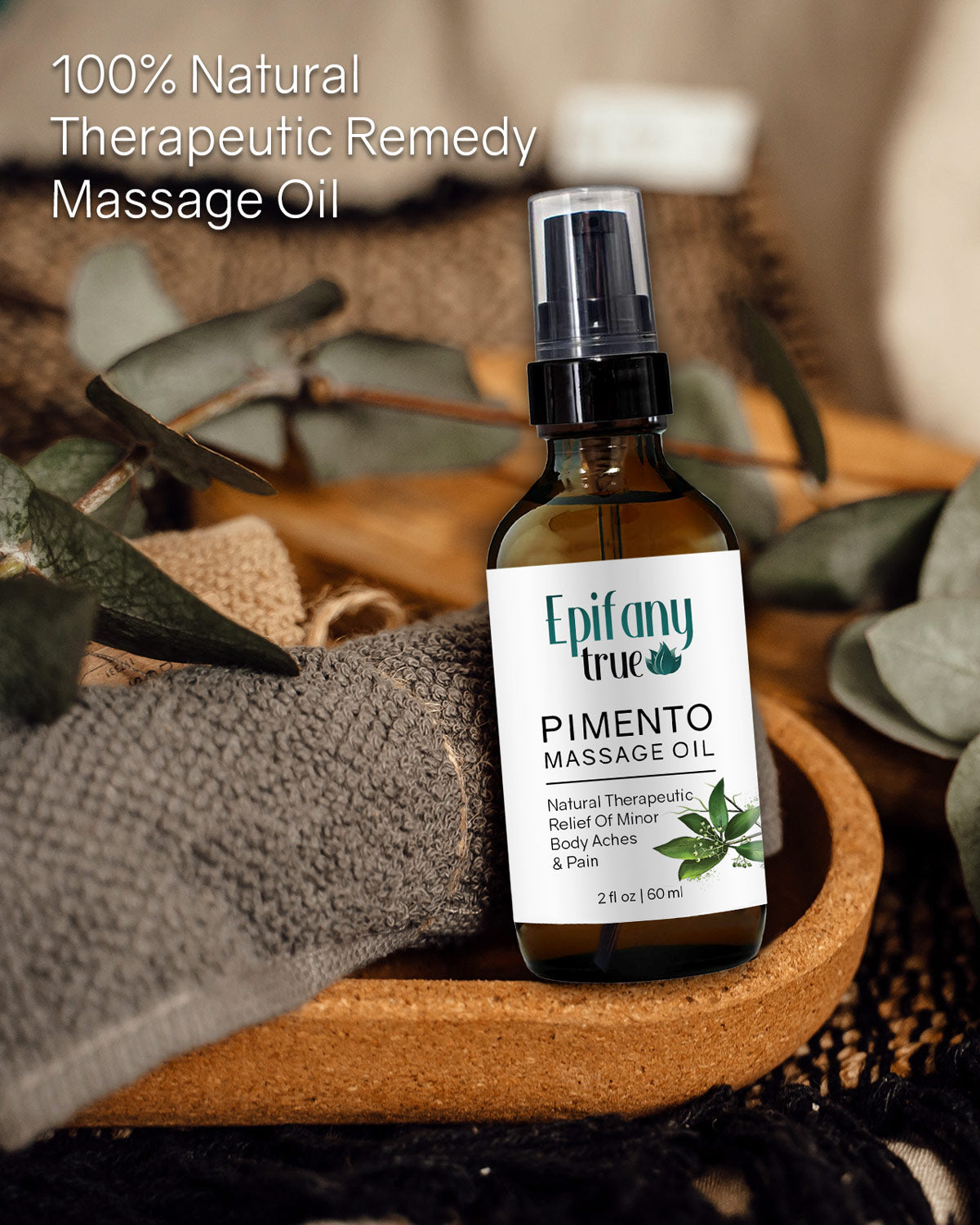 Epifany True
100% Natural Pimento Massage Oil 2oz
Sale price
$18.99 USD
Regular price
This wholesome pimento massage oil blend is commonly used as a natural massage oil to improve circulation as well as relief of pain, soreness, and discomfort. Designed for external use only, this oil has been known to support temporary natural relief of minor aches and muscle pains. The invigorating, refreshing herbal scent stimulates the senses for deep relaxation. For an enhanced experience warm 1 or 2 tablespoons of oil before massaging, or use after a hot bath when pores are open.
Effective Gentle Care
All-Natural Therapeutic Pain Relief
Pimento (Pimenta dioica) also referred to as allspice is a renowned natural analgesic, and has been a traditional Jamaican organic herbal remedy for aches & pains for hundreds of years. Our Epifany True Pimento Oil is made primarily from the potent leaves and pimento berries cultivated and handpicked in Jamaica. Manufactured in the USA.
This soothing all-natural oil blend is made with an infusion of pimento leaves and berries in olive oil, Jamaican black castor oil, Peppermint Oil, Eucalyptus Oil, Nutmeg, Cinnamon, Annatto Seed, and Lemongrass.
Shown to condition and clarify the skin, it's the best massage oil to help improve circulation. In addition to providing natural relaxation to tight sore muscles, this oil also leaves skin feeling soft, moisturized, and rejuvenated.
This pimento massage oil has a refreshing herbal scent that stimulates the senses for deep relaxation of the mind, body, and soul.
Reasons To Love This Body Oil:
Topical Pain Relief
Natural Ingredients
Hydrating and Rejuvenating
Invigorating Fragrance
Safe Gentle Easy To Use